Body Politic
| Subscribe to blog |
Posted on August 12, 2015
Posted on September 12, 2014
Body Electric, an exhibition of visual art by tattooists
that I curated at Ricco/Maresca Gallery:  September 18-Oct 25.
Posted on April 18, 2014
With Stephanie Tamez, co-owner of Saved tattoo, featured artist in Bodies of Subversion, and professor teaching tattoo design at School of Visual Arts.
2.5 minute afterparty…
Posted on November 15, 2013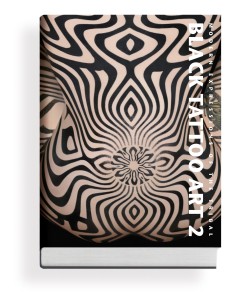 Until recently, the most stunning book in my tattoo library was Black Tattoo Art, Marisa Kakoulas' 536-page compendium of  black and gray (mostly) abstract tattoo work. Now there's competition: Kakoulas' Black Tattoo Art 2: Modern Expressions of the Tribal (Edition Reuss). Also a door-stopper, it's loaded with tattoo history (perhaps you knew that Otzi the Iceman  is one of the oldest tattooed mummies, but did you know his 57 tattoos mark acupuncture points?) and page after page of mind-jolting images from around the globe.
Nazareno Tubaro
Kakoulas is a rare combination of tattoo scholar, journalist, and enthusiast who curates the best examples of innovative tattoos on her site NeedlesandSins.com, and in her books. Far too many tattoo art collections consist of reflections on the genesis or meaning of a tattoo or rote testaments to how edgy or obsessive an artist is. Not this one: Kakoulas delivers the history, the technique and the reported story, eliciting meaty quotes from artists who would be (and have been) less compelling in less professional hands. "Pacific Island Design can be applied to the layout of individual designs that may originate from virtually any culture, from any part of the world," Rory Keating tells her. "The overall fit of the tattoo on the canvas of the body is of the ultimate importance in tribal. Since there are no pictures for the eye to dwell on, the flow of the work predominates on the mind."
Keating's observation relates not just to the chapter on Neotribal art in which his work appears, but also to the Dotwork, Celtic/Nordic, and Traditional Revival chapters in this book (less so the more illustrative Art Brut pieces). To my mind, the most progressive tattooists at work today are freeing tattooing from the literal constraints of illustration. They include Tomas Tomas (London), Nazareno Tubaro (Buenos Aires), and Roxx 2 Spirit (San Francisco)–artists who create patterns that embrace and complement the body instead of using it as a signboard. Kakoulas introduced me to all of them.
Posted on July 9, 2013
Imogen Cunningham was a pioneer in many ways, notably as a woman who photographed nudes, male and female–including herself, in the early 20th century, when America's Victorian hangover mandated that art school models wear masks to guard their reputations.
The stunning new book Imogen Cunningham (TF Editores/DAP) is the largest collection of her work to date, spanning her nudes, street art, industrial photos, botanicals (which echoed Georgia O'Keefe and presaged Robert Mapplethorpe), and portraits of artists and writers from Man Ray and Gertrude Stein to Frida Kahlo and Martha Graham.
Though she collaborated briefly with Dorothea Lange, Cunningham was not interested in "the invasive approach" of photojournalism. But she took some fabulous celebrity photos. When she appeared (at 93, shortly before her death) on the Tonight Show in 1976, she told Johnny Carson that Vanity Fair, for whom she worked in the '30s, once hired her to shoot ugly men, including Cary Grant. "Do you consider him ugly?" Carson asked, and the audience roared with laughter when she replied, "No—he convinced me that he wasn't."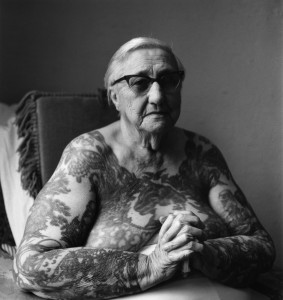 Cunningham worked until her death. Her posthumously published monograph, After 90, chronicled the elderly, including the tattooed circus attraction Irene "Bobbie" Libarry (83, at right) in a nursing home. It was one of Cunningham's last portraits, taken months before she died, and I've read that it was one of her favorites. Oddly it's not included in this book (though a touching photo of Libarry's tattooed feet is).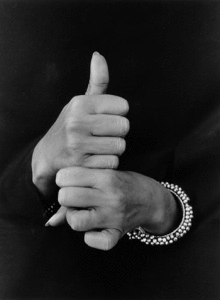 I wish this collection featured fewer of Cunningham's double exposed allegorical photos, which haven't aged well, and more of her artists' portraits, which have. Even so, this visual bonanza–200 images, all on view at the Kulturhuset in Stockholm—is spectacular, confirming how fresh and sensual her photos were–and are.
Posted on February 21, 2013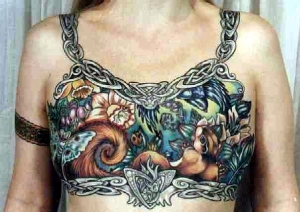 This photo of a post- mastectomy tattoo from Bodies of Subversion went viral on Facebook this week after Custom Tattoo Design in Ontario posted it and Facebook repeatedly removed it for violating its nudity policy. In reposting it, Lee Roller of CTD wrote, "We feel this woman is both brave and strong so [we're] going to post it anyways and ask for your awareness and support. Please like and share this photo quickly to show your support for this and many other women who have lost so much.'
Odd that Facebook considers a woman without breasts indececent (she shows nothing more than a shirtless man would) or, for that matter, naked: her tattoo itself is a beautiful shirt. The image has been shared (as of April 22) almost 400,00 times and inspired 200,000 likes and over 60,000 comments, along with a slew of news articles internationally. And Facebook has evidently relented:the photo remains up. Seattle artist Tina Bafaro did the tattoo on Inga Duncan Thornell after her bilateral mastectomy. Here's what it looks like from behind: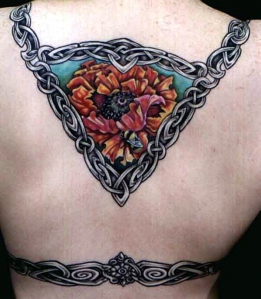 .
Photos courtesy Tina Bafaro, from Bodies of Subversion 3.
Posted on November 27, 2012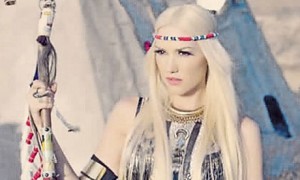 A few weeks ago, No Doubt's "Looking Hot" video (featuring Gwen Stefani as a white Indian bound and writhing for the delectation of hunky hostiles) revived a centuries-old tradition of captive fantasy art just in time for Native American History Month. There was John Vanderlyn's 1804 "Murder of Jane McCrea," John Mix Stanley's 1845 "Osage Scalp Dance," Erastus Dow Palmer's full frontal "The White Captive" (1857-8, allegedly inspired by Olive Oatman), and this priceless lesser known piece, "The White Captive," by Astley D.M. Cooper: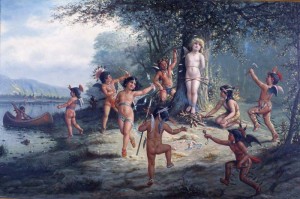 A California artist with a drinking problem and a penchant for painting semi-clad ladies, Cooper was an erratic talent (but you have to hand it to him for this 4 x 8 foot piece of sheer high concept brilliance). Though it was painted in 1902, his captivity scenario is positively postmodern: the natives look like they could be Indians from a whole different continent, and the chubby little devils—wearing angel wings and carrying spears, tomahawks, and bows and arrows–merrily menace a blissed out androgyne who's about to get roasted and float to heaven.
This painting always struck me as a little late in the day for captivity fantasy art. But No Doubt has extended the timeline by over a century. After hearing from outraged viewers (and receiving an open letter from UCLA 's American Indian Studies Center), Interscope pulled the video and the band issued a formal apology (as did Victoria's Secret for dressing this model in leopard skin panties and a floor length Indian headdress):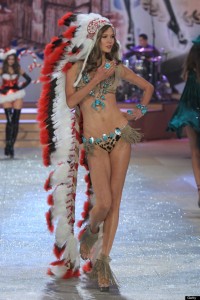 One particularly offensive aspect of the No Doubt video, the AISC letter noted, is that one in three Native American women is raped (primarily by non-Indians). Perhaps as penance for singing "Do You think I'm Looking Hot?" in redface during Native American history month, Stefani should read Louise Erdrich's The Roundhouse, a novel about the rape of an Ojibwe woman, which just won the National Book Award. It was written, said Erdrich, to honor "the  grace and endurance of native women."
Posted on August 14, 2012
From the 19th century to the 1950s, Hawaiian hula dancers performed for guests at home and foreigners abroad, establishing what author Adria Imada calls "imagined intimacy" between the U.S and the Aloha State as we made it safe for democracy, tourism, and the exportation of sugar. In Aloha America: Hula Circuits Through the U.S. Empire (Duke University Press), Imada traces the practice from its island origins (a "highly venerated, selective and restricted" dance that was both sacred and secular) to its kitschy reincarnation in the age of dashboard dancers.
Drawing intriguing comparisons to both the Maori of New Zealand and Native Americans, Imada explains how Hawaiians protected their rituals by exporting and adapting them. "Hawaiian women," she writes, "though frequently displayed as imperial objects, were not passive commodities….they improvised tactics to subvert colonial scripts that insisted on primitivist eroticized roles, asserted hula as a legitimate practice, and presented themselves as modern Native women and cosmopolitan tourists."
Smartly theorized and well researched as it is, Aloha America is written in a rote, relentless academise that drains the life out of the dynamic subject it seeks to celebrate. And so a dance that was, by one 19th century account, "so amorous that the ladies [in the audience] turned aside their heads," is here a "sexualized discursive formation" that involved "performative stagings" in the service of "the erotics of empire." The history's solid, but what a shame the story doesn't swing.
Posted on June 11, 2012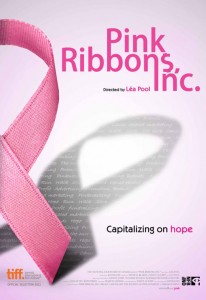 The new film "Pink Ribbons, Inc." tracks the degeneration of breast cancer advocacy from activism to "pinkwash" consumerism. But one pink product has finally run its course: the ribbon tattoo. "I haven't done a straight up pink ribbon on a survivor in years," says veteran tattooist Mary Jane Haake, "unless it is incorporated into the body of a butterfly or some other design."
Pink ribbons are also her most requested cover-up. "After awhile," says Haake, "[women] don't want to be a 'survivor' who is asked about the ribbon in the grocery store line and have to relive their cancer experience over and over. And even if you put it on your body where the public doesn't see it, you don't necessarily want to look at it first thing every morning while you brush your teeth."
As the founder of Dermigraphics in Portland, the longest continuously running tattoo shop on the west coast, Haake was one of the first artists to cover mastectomy scars with decorative imagery and to tattoo nipples and areolae on women after reconstruction. When she started in the late '70s, she got about one such customer a year. Now she does one every day—many on women in their twenties and thirties.
Post-reconstruction tattoos done to conceal scars and to "fake" nipples and areolae have been common since the 1980s, though New York tattooist Charlie Wagner was attempting them back in the 1940s. Their quality improved after the Breast Cancer Recovery Act of 1999 allowed physicians to add tattooing to their reconstruction services: surgeons soon discovered they weren't good at it, and artists took over.
"Today," says Haake, "the tattooing—whether decorative or reconstructive—is covered under the breast cancer recovery act and paid for by insurance, so tattooers themselves are able to bill insurance companies for their work."
Posted on May 7, 2012
Coiffures of Chelsea, art fair weekend: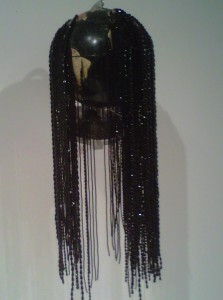 Fred Wilson, "Reign" (2011). 2012 Pulse Art Fair.
His glass bead extensions hang from a cardboard globe.

Ruth Marten,"Tress." 2012 Pulse Art Fair.
Before she became a full time illustator/artist, Marten
worked as one of the first female tattooists in New York.
She currently has a show at Hosfelt Gallery.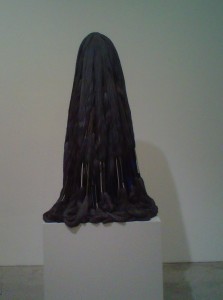 Sheila Hicks, "Menhir" (1998-2004). Sikkema Jenkins
& Co. Hicks has been making fiber art for 50 years. This
piece is made of linen cord.