True Lies, Beautiful Fakes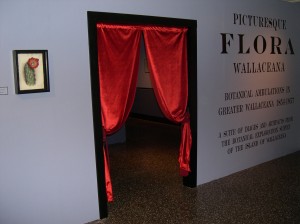 Fans of the Museum of Jurassic Technology will enjoy artist Scott Serrano's lovingly meticulous, faux period installation in a show called "Hudson Valley 2011: Exercises in Unnecessary Beauty" at the Samuel Dorsky Museum (SUNY New Paltz).
In "Picturesque Flora: Wallaceana," the chronicle of a mock botanical expedition, Serrano imagines an island on which each plant mimics the tragic life of a modern or 19th century figure. That includes Olive Oatman, who inspired him after he read The Blue Tattoo: The Life of Olive Oatman. Serrano's mythological Oatman cactus is surrounded by wildflowers named for her family members, most of whom were killed in the 1851 Oatman massacre. The desert bloom, Serrrano tells me, represents "a symbolic ghost awakening."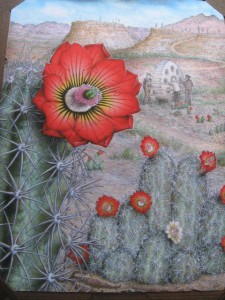 The flower's changing colors mark the phases of Olive's life, shifting from white (she was raised in Illinois) to red (she was adopted by Mohave Indians) back to white (she was ransomed back by the U.S. government). And the lined petals echo her chin tattoo (which was in fact applied with cactus needles). Fittingly, the bloom retains a red center, denoting, as the placard reads, "the past history of the flower inscribed upon the very petals of the blossom." It's a touching, nuanced tribute to America's only white Mohave.
Tags: Alfred Russell Wallace, Hudson Valley Artists 2011: Exercises in Unnecessary Beauty, Museum of Jurassic Technology, olive oatman, Picturesque Flora: Wallaceana, Samuel Dorsky Museum, Scott Serrano, The Blue Tattoo: The Life Of Olive Oatman