Black Beauties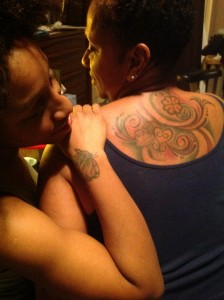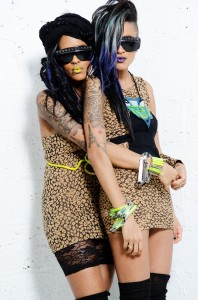 Abebi and Donna Gibson; Coco and Breezy Dotson
One of the few well-known black tattooists in the U.S., Miya Bailey is worried about the plague of scratchers defacing African-Americans across the country, Lil Wayne being the limit case for bad body art. In the documentary "Color Outside the Lines" by Artemus Jenkins, Bailey introduces a generation of black artists rectifying this problem. To stand out on dark skin, they explain, tattoos need to be large, with bold lines and what artist Russ Abbott calls "a readable silhouette." New Orleans veteran Jacci Gresham shows her decades-old Ed Hardy tattoo to illustrate how a detailed piece that might have worked on white skin didn't quite cohere on her. And self-described "token white" artist Brandon Bond says that 90% of white tattooists don't take the time to figure out how color works on black skin.
The artists also discuss the difficulty of breaking into this white-dominated trade (Julia Alphonso, below, apprenticed three of the Atlantans here after other white shop-owners turned them down) as well as the domestic turbulence this all-consuming, travel-heavy profession can cause. D.C. artist Chris Mensah says his success as a tattooist doesn't compensate for the time he's lost with his children, and his regret is palpable.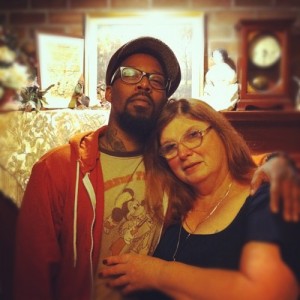 Miya Bailey and his mentor, Julia Alphonso
At a screening at Complex magazine last week, Bailey and Jenkins discussed the film, five years in the making at shops and conventions. "We just wanted to make our moms proud," said Jenkins.  Afterwards, the mother-daughter team above (top left) showed their stuff—both Bailey pieces—as did the twins Coco and Breezy Dotson (top right), sunglass designers with big hair, blue lipstick, and a collection of matching tattoos. "We get a new tattoo every time we travel together," they said.  Which just keeps people guessing which twin is which.
Tags: abebi and donna gibson, artemus jenkins, black tattoo art, chris mensah, coco and breezy dotson, color outside the lines, complex magazine, ed hardy, jacci gresham, juilia alphonso, miya bailey, russ abbott