Imogen Cunningham was a pioneer in many ways, notably as a woman who photographed nudes, male and female–including herself, in the early 20th century, when America's Victorian hangover mandated that art school models wear masks to guard their reputations.
The stunning new book Imogen Cunningham (TF Editores/DAP) is the largest collection of her work to date, spanning her nudes, street art, industrial photos, botanicals (which echoed Georgia O'Keefe and presaged Robert Mapplethorpe), and portraits of artists and writers from Man Ray and Gertrude Stein to Frida Kahlo and Martha Graham.
Though she collaborated briefly with Dorothea Lange, Cunningham was not interested in "the invasive approach" of photojournalism. But she took some fabulous celebrity photos. When she appeared (at 93, shortly before her death) on the Tonight Show in 1976, she told Johnny Carson that Vanity Fair, for whom she worked in the '30s, once hired her to shoot ugly men, including Cary Grant. "Do you consider him ugly?" Carson asked, and the audience roared with laughter when she replied, "No—he convinced me that he wasn't."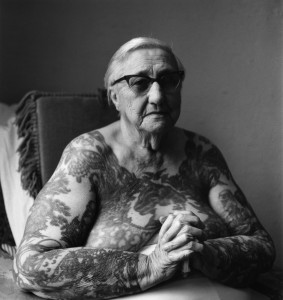 Cunningham worked until her death. Her posthumously published monograph, After 90, chronicled the elderly, including the tattooed circus attraction Irene "Bobbie" Libarry (83, at right) in a nursing home. It was one of Cunningham's last portraits, taken months before she died, and I've read that it was one of her favorites. Oddly it's not included in this book (though a touching photo of Libarry's tattooed feet is).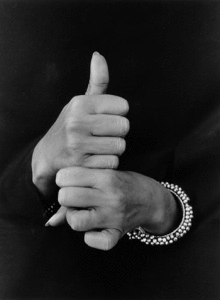 I wish this collection featured fewer of Cunningham's double exposed allegorical photos, which haven't aged well, and more of her artists' portraits, which have. Even so, this visual bonanza–200 images, all on view at the Kulturhuset in Stockholm—is spectacular, confirming how fresh and sensual her photos were–and are.