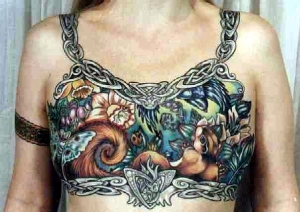 This photo of a post- mastectomy tattoo from Bodies of Subversion went viral on Facebook this week after Custom Tattoo Design in Ontario posted it and Facebook repeatedly removed it for violating its nudity policy. In reposting it, Lee Roller of CTD wrote, "We feel this woman is both brave and strong so [we're] going to post it anyways and ask for your awareness and support. Please like and share this photo quickly to show your support for this and many other women who have lost so much.'
Odd that Facebook considers a woman without breasts indececent (she shows nothing more than a shirtless man would) or, for that matter, naked: her tattoo itself is a beautiful shirt. The image has been shared (as of April 22) almost 400,00 times and inspired 200,000 likes and over 60,000 comments, along with a slew of news articles internationally. And Facebook has evidently relented:the photo remains up. Seattle artist Tina Bafaro did the tattoo on Inga Duncan Thornell after her bilateral mastectomy. Here's what it looks like from behind: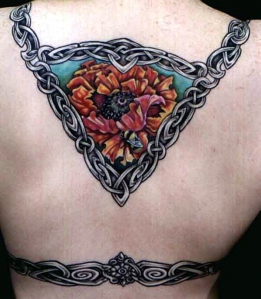 .
Photos courtesy Tina Bafaro, from Bodies of Subversion 3.