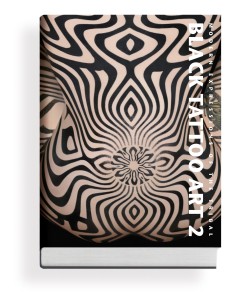 Until recently, the most stunning book in my tattoo library was Black Tattoo Art, Marisa Kakoulas' 536-page compendium of  black and gray (mostly) abstract tattoo work. Now there's competition: Kakoulas' Black Tattoo Art 2: Modern Expressions of the Tribal (Edition Reuss). Also a door-stopper, it's loaded with tattoo history (perhaps you knew that Otzi the Iceman  is one of the oldest tattooed mummies, but did you know his 57 tattoos mark acupuncture points?) and page after page of mind-jolting images from around the globe.
Nazareno Tubaro
Kakoulas is a rare combination of tattoo scholar, journalist, and enthusiast who curates the best examples of innovative tattoos on her site NeedlesandSins.com, and in her books. Far too many tattoo art collections consist of reflections on the genesis or meaning of a tattoo or rote testaments to how edgy or obsessive an artist is. Not this one: Kakoulas delivers the history, the technique and the reported story, eliciting meaty quotes from artists who would be (and have been) less compelling in less professional hands. "Pacific Island Design can be applied to the layout of individual designs that may originate from virtually any culture, from any part of the world," Rory Keating tells her. "The overall fit of the tattoo on the canvas of the body is of the ultimate importance in tribal. Since there are no pictures for the eye to dwell on, the flow of the work predominates on the mind."
Keating's observation relates not just to the chapter on Neotribal art in which his work appears, but also to the Dotwork, Celtic/Nordic, and Traditional Revival chapters in this book (less so the more illustrative Art Brut pieces). To my mind, the most progressive tattooists at work today are freeing tattooing from the literal constraints of illustration. They include Tomas Tomas (London), Nazareno Tubaro (Buenos Aires), and Roxx 2 Spirit (San Francisco)–artists who create patterns that embrace and complement the body instead of using it as a signboard. Kakoulas introduced me to all of them.