Coiffures of Chelsea, art fair weekend: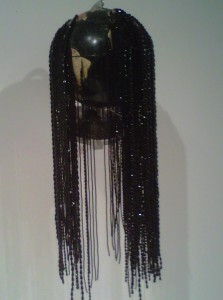 Fred Wilson, "Reign" (2011). 2012 Pulse Art Fair.
His glass bead extensions hang from a cardboard globe.

Ruth Marten,"Tress." 2012 Pulse Art Fair.
Before she became a full time illustator/artist, Marten
worked as one of the first female tattooists in New York.
She currently has a show at Hosfelt Gallery.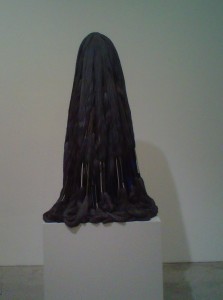 Sheila Hicks, "Menhir" (1998-2004). Sikkema Jenkins
& Co. Hicks has been making fiber art for 50 years. This
piece is made of linen cord.