I interviewed Yayoi Kusama in Tokyo in 1983, where she had been living (voluntarily) in a psychiatric hospital for nearly a decade, making art, but forgotten by the art world. A few years later, her star reascended, and in 2008, her painting "No. 2" broke a record (over $5 million) for a living woman artist at auction (nearly double what a piece by her former lover, Joseph Cornell, commanded the same day).
Last week when I stumbled on her 2005 installation, "You Who Are Getting Obliterated in the Dancing Swarm of Fireflies" at the Phoenix Art Museum, it was a soul-shaking encounter. A darkened, mirrored room with tiny shifting LED lights suspended from the ceiling, the piece is like an existential baptismal font in which Kusama's signature dots mark her signature distance-infinity-and promise to wash you away.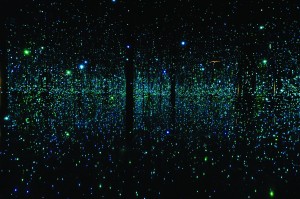 You Who Are Getting Obliterated in the Dancing Swarm of Fireflies, Yayoi Kusama, 2005. Mixed media.
Our 1983 conversation was supposed to be about the role of dreams in art, but I soon learned hallucinations were more relevant to her vision. She told me about waking up one day and seeing nets covering everything in her room, before she became New York's "Polka Dot Girl" promoting self obliteration through the accumulation of "black polka dots of death."
"Fireflies" makes you feel instantly disarmed, disoriented, lonely—and exhilarated: it confronts you with a terrifying sense of freedom, the kind you might savor, anyway, before jumping off a cliff. But Kusama, who still lives in a mental hospital, knows her limits: if not for art, she has always said, she would have killed herself. And look at her now: she's an octogenarian superstar.