Margot Mifflin is an author, journalist, and professor who writes about women's history and the arts. The author of Bodies of Subversion: A Secret History of Women and Tattoo and The Blue Tattoo: The Life of Olive Oatman, she has written for The New York Times, Entertainment Weekly, Vogue, Elle, ARTnews, Salon.com, The Los Angeles Review of Books, The Believer, The New Yorker, The Chronicle of Higher Education, Bookforum,  The San Francisco Chronicle, Aeon.com, and many other publications. 
She is a member of the National Book Critics Circle and PEN American Center.

A professor in the English Department of Lehman College of the City University of New York (CUNY), Mifflin also co-directs the Arts and Culture program at the CUNY Graduate School of Journalism, where she teaches arts journalism. She is a graduate of Occidental College, where she was a friend of President Obama, and has written about their college years for The New Yorker.com and The New York Times.
Mifflin curated the 2015 exhibition "Body Electric" at Ricco Maresca Gallery, and was an adviser for the exhibition "Tattooed New York" at New York Historical Society through April 30 2017. She lives in Nyack, New York.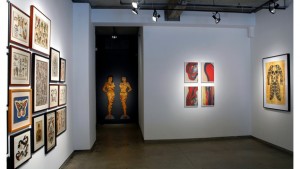 Bodies Electric, room 2